Jul 17, 2018
4,734
738
113
Dear players,
We are looking to address some of the issues that players encounter with making certain in-game transactions, provide suggestions to ease the overall process of the market and

clarify boundaries

for the market & posting on reports/appeals.
Reward Point Transactions
In the past few months, we have noticed a surge of players indicating issues at their discretion of the interest to purchase Reward Points (RP) through the conversion of Vote Points (VP). This has alerted several uninformed sellers of initial advertisements to "purchase VP" but turned to RP. What this refers to is the intention to purchase Reward Points, but requiring the seller to convert their VP into RP, and advertising the intent via global messages where the advertisements only include the term "VP".
We would like to clarify this issue in accordance with the
Terms of Service
.
4. SCAMMING
Scamming is a large topic and is handled on a case-by-case basis at the discretion of the Staff. This rule is inclusive of (but not limited to) establishing agreement(s) for transaction(s) with other players and the intention, attempt and/or act of not completing the said transaction; or providing lesser than the agreed amount or item equivalent (on the exception if both parties are willing to compromise). Such transactions include services concerning untradeable currencies such as Vote Points and/or Coin/Point Shops and anvil services. Any intention, attempt or act to deceive or falsify the general aesthetic, price and/or demand that is intended for financial or personal gain is referred to as fraud; and constitutes under Scamming. Acts of fraud are inclusive of (but not limited to): clear knowledge of the current price of an item/currency and providing (and/or convincing) other players with a false market price, accepting an inaccurate or false price of an item without informing the other party, changing the appearance of an item with the intention to deceive and/or create opportunities of overlooking the original identity of the item, and/or initiating a temporary lease of item(s), currency, and/or account(s) from any player (regardless of familiarity or relation) and the failure to return it upon agreement.
With reference to the text in red above quoted from the Terms; should there be an intention to purchase Reward Points via the method of Vote Points conversion, you are REQUIRED to indicate the term(s) "Reward Point" or "RP" in your advertisement and/or global messages when seeking a seller. The failure to include the actual intention to purchase Reward Points and/or the failure to inform the seller of the original intention before an agreement of transaction is made; is classified as Fraud.
This applies due to the price ratio differences for Vote Points and Reward Points in the market, and upon conversion should also convert the prices of the final result.
We want to avoid instances where players are restricted by the 'agreement of transaction' clause but were not informed of the original intention of the buyer; where they are then forced to complete the transaction.
As this was not clarified in the past, there will not be any actions taken to players who have failed to include the original intention prior to the time of this post.
From here on out, players found not including and/or informing their original intention AFTER the time of this post will be given a warning + strike for the first offence where repeated offence(s) will incur temporary ban(s) and/or subsequently a permanent ban (where the severity deem fits).
Discord Channel (#freemarket)
For players using the #freemarket channel on our Discord to advertise any selling/buying/trading, this will help to clarify the maximum allowed vertical length for your posts.
At the setting of 100 for Chat Font Scaling and 90 for Zoom Level (as shown in the image below).
[Players may find the setting via Discord Desktop through User Settings > Appearance]

The maximum allowed vertical length of a post is 2 out of 3 (2:3) of the overall length of the channel with the abovementioned viewing settings (as shown in the image below in red).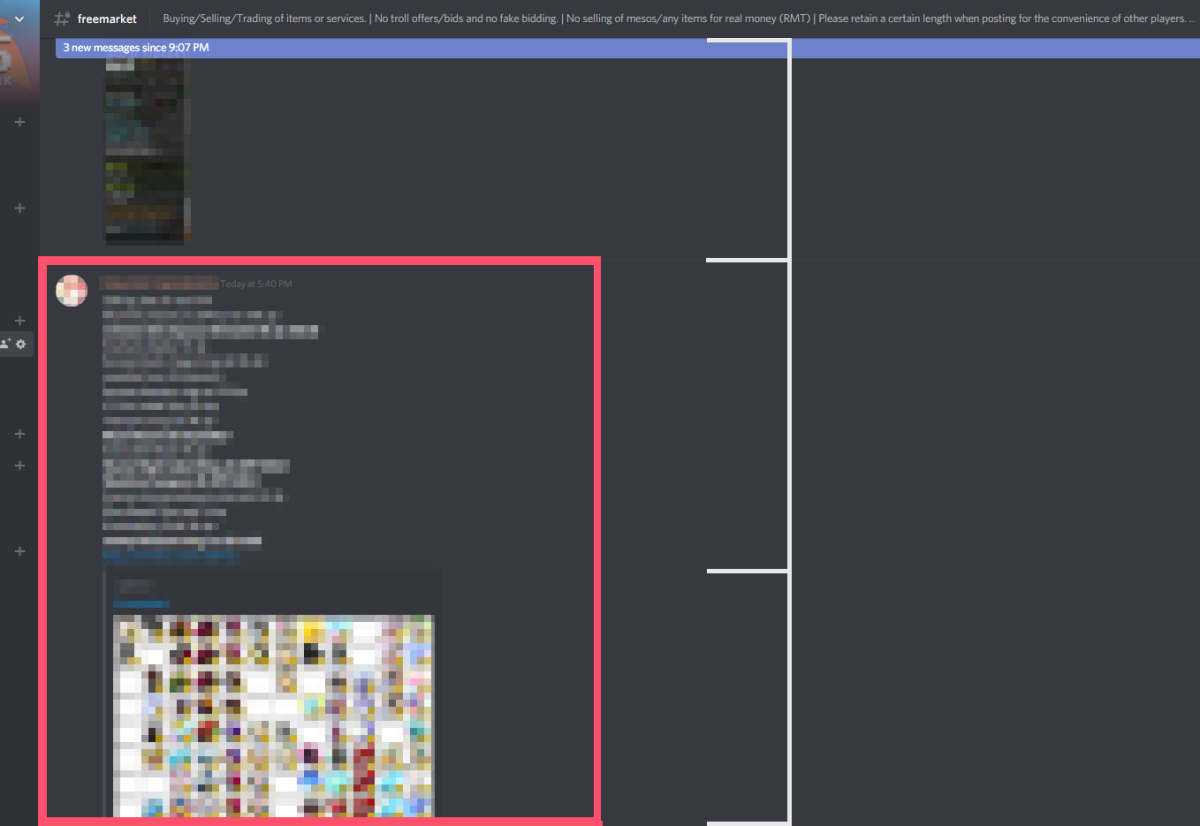 Any post(s) vertically longer than the 2:3 ratio (at Zoom Level: 90) will be considered as spam and warnings will be issued. Should any player exceed 3 warnings, a permanent block from Discord will be issued and will no longer be allowed to access the Discord channel.
For posts with links, players may use the open and closed brackets ('<' and '>') at the start and end of your links to prevent the preview from appearing when posting with a link; for example:

This would result in the following:

This will allow players to include any links necessary without the preview appearing that extends the vertical length of a post.
Players may also make use of the horizontal length to advertise any notable items with the following example:


This would result in the following:

For the ease of all users, players are recommended to indicate the bare minimum of the Item Name (excluding stats and all other attributes) to allow others to be able to easily search and identify them. This would help in all intended transactions with the use of the Search function.
We hope that this will help players understand the restrictions in place and how players can go about utilizing various Discord functions to improve your overall experience.
Forum Posts (Report & Appeals Section)
We have noticed a surge in users on forums unnecessarily commenting on thread(s) found in the 'Report a player' & 'Appeal' section inclusive of those not involved.
We would like to emphasize the following rules for both sections (highlighted in red).
'Report a player' Section
RULES

Please upload the photo to external hosting sites, for videos please upload to YouTube.

Do not post in threads that do not involve you.

Follow the formats provided else your report will be ignored and deleted.
Please include as much information as possible.
Please include timestamps if necessary (@check)
Kindly ensure that Botting reports are to have a minimum of 2 minutes of video recording (along with timestamps) only.
For KSing reports, please include all screenshots that include: the timestamp of @check and all chat logs, and clearly SHOW the other player dealing any amount of damage on the monsters (refer to TOS on how to verify map ownership)
'Appeal' Section
RULES

Do follow the appeal format, if you do not follow it, it'll be ignored.
Images of ban appeal must be posted on a third-party website i.e. Imgur or Puush or any other service that you wish to use. Do not use the forum attachments.
All appeals must be within 30 days from the time of ban; any appeals made after the 30-day period will be ignored.
Do not, I repeat do not send a private message to any of the staff members in regards to your ban appeal. It will not increase the chance of your thread getting noticed.

Do not post on a thread that does not concern you. If you're going to comment anything on the thread, please have a valid reason to do so. If you're just gonna say unban him because he/she has displayed good characteristics in game, I'd advise you against it.

Do NOT tag any staff member within your ban appeal.
Any user found commenting without involvement will be given a warning, and subsequently blocked from the forums either temporarily or permanently depending on the number of offence(s) committed.
Players that are involved in ANY report(s) will be allowed to only provide the relevant information (in a single post) related to the report; engaging in an argument that does not assist with the report and/or additional acts of aggression will NOT be tolerated.
We will no longer give leniency to users who continue to comment without involvement (especially those who have been given countless warnings prior to this post).
--
This will conclude the post; for any clarifications please seek assistance from the Staff.
- Elluel Network Staff Team